50% Off !!
Stock Clearance Sale
Due to the rising costs of making a quality product like this, we will no longer be purchasing materials for manufacturing bushfire blankets. When our stock runs out we will no longer be selling bushfire blankets.
Our loss is your gain. Get in quick! We will be selling all stock at 50% off until it runs out.
Are you prepared for a bushfire?

Do you put sunblock on when you go into the sun? ... What about when you enter a bushfire prone area? Are you prepared for the ferocity of a bushfire?
120 people died and many more were injured during the Black Saturday bushfires of 2009. Many of the victims were not aware of the fires until it was too late to escape and found themselves trapped with no protection from the intense radiant heat.
What have we learnt from this horrific disaster? Do Australians continue to enter bushfire prone areas without protection?
If you live in a bushfire prone area; Are you prepared when travelling home? Are your visitors prepared?
A small price for piece of mind.
For the cost of a woollen blanket, the multi-layer composite Bushfire Blanket provides effective protection against the three major bushfire heat killers; radiant heat, ember attack and thermal conduction. The composite construction of the Bushfire Blanket is similar to that used in Space suits.
Weighing approximately 2.5 kgs, the Bushfire Blanket can be carried in the car or in a backpack ready for instant deployment. The blanket dimensions are 1.8m x 1.5m.
Unrivalled high temperature performance
The Bushfire Blanket has been subjected to a number of tests including full destructive testing. During this testing process we rejected many "wool" blankets from suppliers that, during our testing ignited due to the addition of other fibres. We also rejected many radiant barrier materials that despite being flame retardant were attached to scrim material that did not have adequate fire resistant properties. Our design is manufactured from high performing materials:
Aluminium radiant heat barrier.
High temperature lamination.
High temperature woven fibreglass.
100% Australian wool blanket.
Dupont Nomex thread.
This enables the Bushfire Blanket to provide provide radiant heat protection well over 10 times the performance level defined in AS4967.
AS-4967 Tested
The Bushfire Blanket has been tested by a NATA certified testing authority. Results from this testing exceeded the levels for radiant heat transfer, flame heat transfer, residual strength and heat resistance defined in AS/NZS 4967:2009 Protective clothing for firefighters - Requirements and test methods for protective clothing used for structural firefighting.
How it works.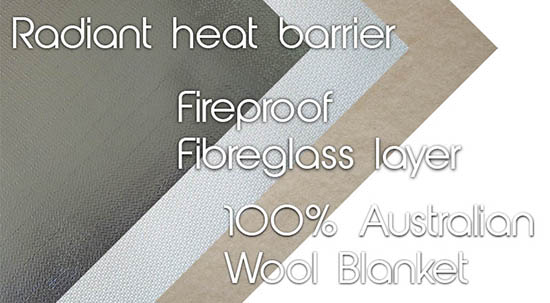 Unlike conventional woollen blankets, the Bushfire Blanket has a metallic outer layer that reflects radiant heat away from the user. Radiant heat is the biggest killer in a bushfire. This heat can be so intense that it can kill people from hundreds of metres away without a flame ever touching them.
A second layer of woven fibreglass provides a fireproof barrier that protects the third woollen layer from large embers. The third layer, a 100% Australian wool blanket, provide thermal insulation from heat conduction.
Unlike other burnover blankets on the market, our blanket does not use treated cotton products such as Proban on the fire exposed surface (except for decorative binding trim). The aluminium and fibreglass layers are designed to withstand the extremes of bushfire temperatures.
The unique operation of the Bushfire Blanket is designed to be laid flat over the user. This creates an area around the user protected from radiant heat. This makes use of the natural insulating properties of the ground and reduces thermal conduction from the surrounding ground.
The Bushfire Blanket is a high quality product designed and made in Australia using 100% Australian wool. Patent pending.
Details
Size:
1.8m x 1.5m
Materials:
Outside layer - aluminium
Middle layer - fibreglass
Inside layer - 100% Australian pure new wool
Thread - Dupont Nomex